Wednesday 01 August 2018, 12:15 - 13:00

Program to download and / or print
OPENINGSCONCERT
MIND SPELLER CHAMBER ORCHESTRA
TIGRAN MAYTESIAN, viool, ISABELLE LACHAPELLE, viool, ZHAZIRA UKEYEVA viool, SEMEON LEBEDEV, altviool, SHUYA TANAKA, cello, KATHARINA EVE, cello,
Johann Sebastian BACH, Wolfgang Amadeus MOZART, Joseph HAYDN, Antonio VIVALDI, Sergueï RACHMANINOV, Johannes BRAHMS, Jules MASSENET, Carlos GARDEL, Vittorio MONTI
Het Kamerorkest Mind Speller is nauw verbonden met het project van wetenschappelijk onderzoek in de afdeling neuro en psychophysiologie van de KU Leuven.
Tigran Maytesian, Professor aan de KUL, geeft aan zijn project een bezielende uitstraling door zijn orkest Mind Speller, dat deel uit maakt van de praktische toepassing van het opzoekingswerk op de patiënten.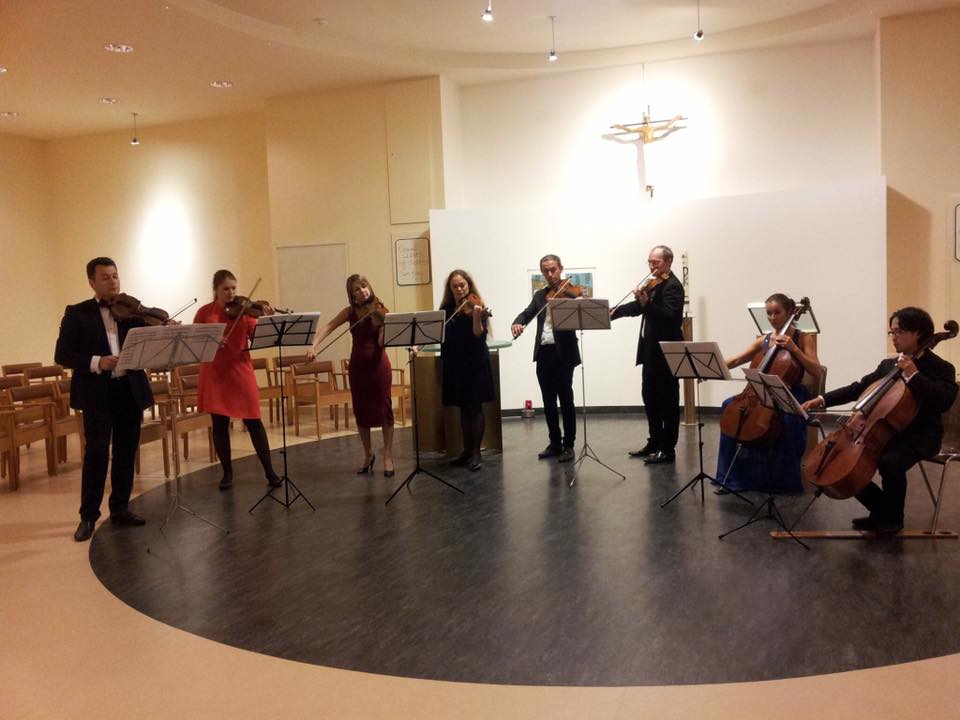 L'orchestre de chambre Mind Speller est fortement lié au projet de recherche scientifique du département de neuro et psychophysiologie de la KULeuven.
Par son orchestre Mind Speller, Tigran Maytesian, professeur à la KUL assure un rayonnement particulier au projet. Celui-ci fait partie intégrante du travail de recherche par ses applications sur les patients.
The Mind Speller Chamber Orchestra is closely linked to the KULeuven Neuroscience and Psychophysiology Research Project.
Through his Mind Speller orchestra, Tigran Maytesian, a professor at the KUL, is particularly keen on the project. This is an integral part of the research work by its applications on patients.
Location
Lange Gasthuisstraat, 45 2000 Antwerpen