Tuesday 04 August 2020, 12:15 - 13:00

SONORO STRING QUARTET
JEROEN DE BEER and MONA VERHAS, violin | SEAMUS HICKEY, viola | PAUL HEYMAN, cello
Ludwig VAN BEETHOVEN, Dmitry SHOSTAKOVICH
program | à télécharger, imprimer | download, print
Het Sonoro Quartet werd opgericht in 2017 door vier beloftevolle en getalenteerde muzikanten: violisten Mona Verhas en Jeroen De Beer, altviolist Seamus Hickey en cellist Paul Heyman.
Het Sonoro Quartet studeert momenteel aan de Nederlandse Strijkkwartet Academie in Amsterdam waar ze les volgen bij gerenomeerde leerkrachten zoals leden van het Danel kwartet, Eberhardt Feltz, Hagen Quartet enz. Het kwartet neemt ook lessen aan het Orpheusinstituut in Gent en volgt op regelmatige basis masterclasses bij grootmeesters als Heime Müller (Artemis Quartet) en Marc Danel (Quatuor Danel). Het jonge kwartet speelde reeds in tal van mooie zalen zoals de Bijloke, Amuz, Desingel en was te gast op het Beethoven Festival 2020 waar ze de première uitvoerden van het eerste strijkkwartet van Eric Domench, dat werd opgenomen door de SWR televisie.
In januari 2020 deelden ze het podium met de beloftevolle Zwitserse cellist Constantin Macherel waarmee ze concerten speelden in België en Zwisterland. Ook het komend seizoen zullen ze te horen zijn op nationale en internationale podia.
Naast bekende meesterwerken is de missie van het Sonoro Quartet om zowel minder bekende als hedendaagse muziek in concert te brengen. Op die manier profileert het kwartet zich als een uniek ensemble dat steeds zijn grenzen verlegt en hun kleurenpalet blijft uitbreiden. Het steeds blijven vernieuwen en zoeken naar nieuwe klankkleuren heeft deze groep ook geïnspireerd tot het vinden van hun naam.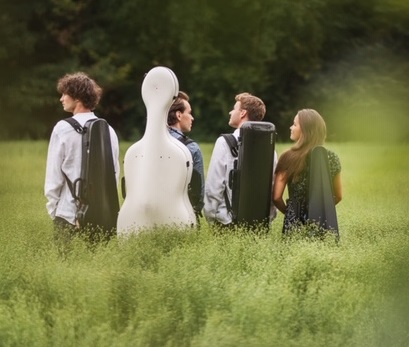 Sonoro Quartet a été fondé en 2017 par quatre musiciens de grand talent: les violonistes Mona Verhas et Jeroen De Beer, l'alto Seamus Hickey et le violoncelliste Paul Heyman.
Le Quartet étudie actuellement à la Nederlandse Strijkkwartet Academie à Amsterdam où il suivt les cours de professeurs renommés comme des membres du Quatuor Danel, Eberhardt Feltz, Hagen Quartet etc… Le Quartet suit également des cours à l'Orpheusinstituut à Gand et régulièrement des classes de maître auprès d'éminents professeurs comme Heime Müller (Artemis Quartet) et Marc Danel (Quatuor Danel). Le quatuor s'est déjà produit dans des salles prestigieuses comme Bijloke, Amuz, DeSingel et a été invité au Festival Beethoven 2020 où il a fait la création du premier quatuor à cordes d'Eric Domench. Ce concert a été enregistré pour la télévision SWR.
En janvier 2020, avec Constantin Macherel, violoncelliste suisse plein de talent, ils se sont produits en Belgique et en Suisse. Et la saison prochaine prévoit des prestations tant nationales qu'internationales.
L'objectif de Sonoro Quartet est non seulement de proposer des œuvres du grand répertoire, mais aussi moins connues ainsi que de la musique contemporaine. C'est ainsi que le quatuor se profile comme un ensemble évolutif. Il construit une sonorité sans cesse renouvelée. C'est d'ailleurs cette recherche de développement de la palette musicale qui a inspiré le nom du quatuor.

Sonoro Quartet was founded in 2017 by four talented musicians: violinists Mona Verhas and Jeroen De Beer, viola Seamus Hickey and cellist Paul Heyman. The Quartet is currently studying at the Nederlandse Strijkkwartet Academie in Amsterdam where it takes courses from renowned professors such as members of the Danel Quartet, Eberhardt Feltz, Hagen Quartet etc. The Quartet also takes courses at the Orpheusinstituut in Ghent and regularly gives master classes with eminent professors such as Heime Müller (Artemis Quartet) and Marc Danel (Quartet Danel). The quartet has already performed in prestigious venues such as Bijloke, Amuz, DeSingel and was invited to the Beethoven Festival 2020 where they premiered Eric Domench's first string quartet. This concert was recorded for SWR television.
In January 2020, with Constantin Macherel, a talented Swiss cellist, they performed in Belgium and Switzerland. And next season foresees both national and international performances.
The goal of Sonoro Quartet is not only to offer works from the great repertoire, but also less famous ones as well as contemporary music. As such, the quartet emerges as an evolving ensemble. It builds a constantly renewed sound. It is this quest in developing their musical palette that inspired the name of the quartet.
Location
Eglise sainte Catherine