Duo MOSCATO & NUNEZ, harspichord & baroque violin
Wednesday 11 October 2023, 19:00 - 20:00

FABIOLA MOSCATO, harpsichord | RAFAEL NUNEZ VELAZQUEZ, baroque violin

Johann Sebastian BACH, Antonio VIVALDI, Domenico SCARLATTI, Francesco Maria VERACINI
Programme - à télécharger/imprimer - te downloaden/afdrukken
Le Duo Moscato~Núñez est né d'une complicité et d'une amitié entre deux musiciens spécialisés en musique ancienne, tous deux vivant et travaillant à Bruxelles. Fabiola Moscato et Rafael Nunez Velazquez ont fait le pari d'explorer le vaste et riche répertoire pour violon et clavier des XVII et XVIII siècles, en passant par des pierres angulaires, véritables pépites, telles que les Sonates de papa Bach.
Pianiste et claveciniste, Fabiola Moscato se forme en claviers historiques avec Laura Alvini, Marco Vincenzi et Umberto Forni. Elle assure le continuo pour différents Orchestres, Chœurs ou Ensembles en jouant pour de nombreuses Institutions Culturelles Européennes. Elle se produit tant sur instruments historiques, y compris les orgues, que sur copies d'instruments anciens en ayant comme répertoire de prédilection les auteurs Baroques et Galants. Pédagogue passionnée, elle est professeur dans les académies d'Auderghem et de Saint-Gilles, et régulièrement sollicitée comme membre de Jury ou conseillère artistique. Fabiola Moscato est cofondatrice de l'Ensemble Les Folies Royales (musique&danse) ainsi que de l'Ensemble Sfere (musique de chambre vocale).
Rafael Núñez Velázquez est né à Séville en 1983. Après avoir terminé ses études de violon au Conservatoire Supérieur de Musique Manuel Castillo dans la classe d'Alejandro Tuñón, il s'intéresse à la musique ancienne et prend alors des leçons auprès des membres de l'Orquesta Barroca de Sevilla. Lauréat d'une bourse du gouvernement de sa région, il part étudier aux Pays-Bas pour suivre un programme de Bachelor en violon baroque avec Antoinette Lohmann à la Hogeschool voor de Kunsten Utrecht. Plus tard, il poursuit ses études au Conservatoire Royal de Bruxelles avec Mira Glodeanu. Il a suivi des masterclasses avec Lucy van Dael, Stefano Montanari, Pablo Valetti et Sayuri Yamagata, entre autres.
Il joue avec des orchestres et des ensembles tels que Les Agrémens, Collegium Ad Mosam, Les Muffatti, B'Rock, Scherzi Musicali, etc.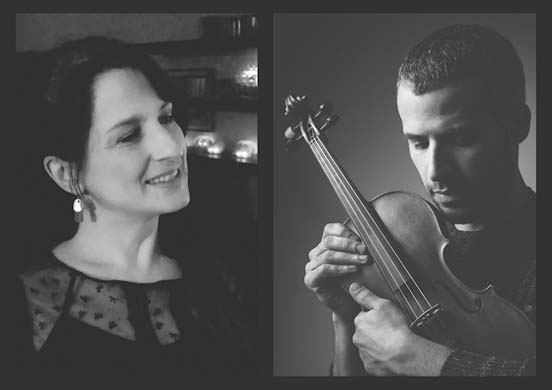 Het Duo Moscato-Nuñez is onstaan uit een vriendschap en een muzikale verbondenheid tussen 2 muzikanten die gespesialiseerde zijn door Oude muziek. Beiden leven en werken in Brussel. Fabiola Moscato en Rafael Nuñez Velazquez hebben zich voorgenomen het uitgebreide en rijke répertoire voor viool en klavier uit de XVII en XVIII eeuw te ontdekken via belangrijke peilers en echte pareltjes zoals de sonaten van Bach.
Als pianiste en klaveciniste volgt Fabiola Moscato haar opleiding 'historische klavierinstrumenten' bij Laura Alvini, Marco Vincenzi en Umberto Forni. Ze neemt de basso continuo-partij voor haar rekening bij verscheidene orkesten, koren en ensembles voor talrijke Europese culturele instellingen.
Ze bespeelt zowel historische instrumenten als kopieën, inclusief het orgel, in een repertoire bij voorkeur van barokke en classicistische meesters. Als begenadigd pedagoge bekleedt ze de lerarenpost in de Academie van Oudergem et Sint-Gillis, waar ze ook regelmatig gevraagd wordt als jurylid en artistiek raadgever.
Fabiola Moscato is medeoprichter van het ensemble Les Folies Royales (zowel muziek als dans) alsook het Ensemble Sfere (vocale kamermuziek).

Rafael Núñez Velázquez werd geboren in Sevilla in 1983. Na het voltooien van zijn vioolstudies aan het Manuel Castillo Hoger Conservatorium in de klas van Alejandro Tuñón, raakte hij geïnteresseerd in oude muziek en kreeg hij lessen van leden van de 'Orquesta Barroca de Sevilla. Als winnaar van een beurs van de regering van zijn regio ging hij in Nederland studeren om een bacheloropleiding barokviool te volgen bij Antoinette Lohmann aan de Hogeschool voor Kunsten Utrecht. Later vervolgde hij zijn studie aan het Koninklijk Conservatorium van Brussel bij Mira Glodeanu. Hij volgde masterclasses bij onder meer Lucy van Dael, Stefano Montanari, Pablo Valetti en Sayuri Yamagata.
Hij speelt met orkesten en ensembles zoals Les Agrémens, Collegium Ad Mosam, Les Muffatti, B'Rock, Scherzi Musicali, etc.
The Duo Moscato~Núñez was born of the complicity and friendship between two musicians specialising in early music, both living and working in Brussels. Fabiola Moscato and Rafael Nunez Velazquez have taken up the challenge of exploring the vast and rich repertoire for violin and keyboard of the seventeenth and eighteenth centuries, including such gems as the Sonatas by Bach.
Pianist and harpsichordist Fabiola Moscato trained on historical keyboards with Laura Alvini, Marco Vincenzi and Umberto Forni. She plays continuo for various orchestras, choirs and ensembles, and has performed for numerous European cultural institutions. She performs both on historical instruments, including organs, and on copies of early instruments, her preferred repertoire being Baroque and Galant composers. A passionate pedagogue, she teaches at the academies of Auderghem and Saint-Gilles, and is regularly called upon as a jury member or artistic adviser. Fabiola Moscato is co-founder of the Ensemble Les Folies Royales (music & dance) and the Ensemble Sfere (vocal chamber music).
Rafael Núñez Velázquez was born in Seville in 1983. After completing his violin studies at the Manuel Castillo Higher Conservatory of Music in the class of Alejandro Tuñón, he became interested in early music and so took lessons from members of the 'Orquesta Barroca de Sevilla. Winner of a scholarship from the government of his region, he went to study in the Netherlands to follow a Bachelor program in baroque violin with Antoinette Lohmann at the Hogeschool voor of Kunsten Utrecht. Later, he continued his studies at the Royal Conservatory of Brussels with Mira Glodeanu. He followed masterclasses with Lucy van Dael, Stefano Montanari, Pablo Valetti and Sayuri Yamagata, among others.
He plays with orchestras and ensembles such as Les Agrémens, Collegium Ad Mosam, Les Muffatti, B'Rock, Scherzi Musicali, etc.
Location
chapel for Europe