EXCEPTIONAL CONCERT SONORO QUARTET
Tuesday 25 May 2021, 19:00 - 21:00

Contact
Dit E-mail adres wordt beschermd tegen spambots. U moet JavaScript geactiveerd hebben om het te kunnen zien.
Link for the streaming
SONORO QUARTET
Deux générations à Vienne | Twee generaties in Wenen | Two generations in Vienna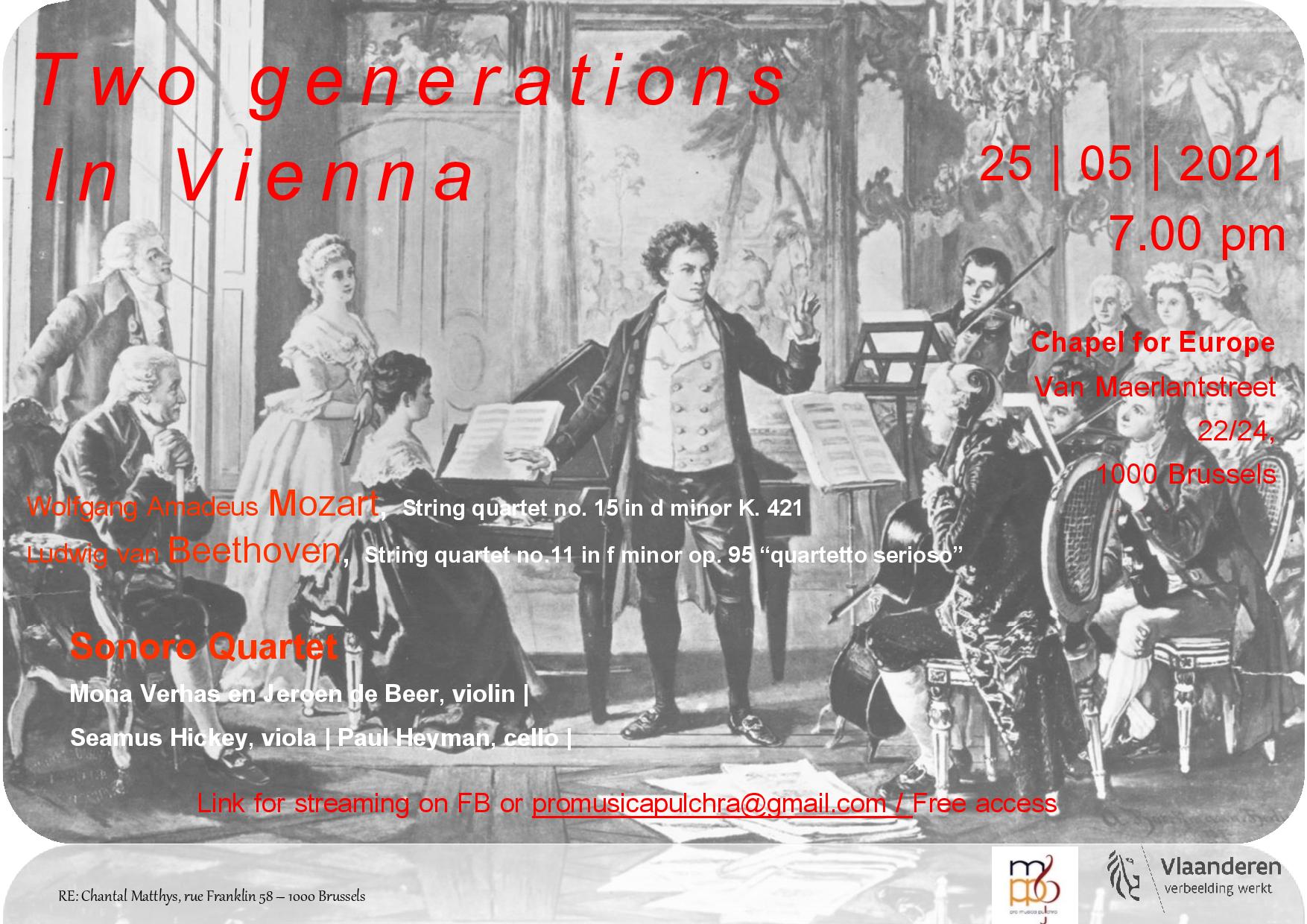 Wolfgang Amadeus MOZART, Ludwig van BEETHOVEN
program sheet | à télécharger, imprimer | download, print
In 1785 bracht Mozart zes strijkkwartetten uit opgedragen aan Joseph Haydn, de grondlegger van het strijkkwartet.
Het kwartet k421 in re klein, is het enige uit de reeks in mineur, wat het een bijzonder werk maakt.
Het kwartet heeft een operatische kwaliteit met veel expressie en contrasten, maar behoudt tegelijk de duidelijke en transparante structuur typisch voor het classicisme en de kwartetstijl van Mozart.
Beethovens elfde kwartet Op. 95 kan gezien worden als de overgang van zijn midden- naar zijn late periode.
Het kwartet is extreem compact en to the point. Thema's worden heel 'no nonsense' gepresenteerd en de doorwerkingen binnen het stuk zijn doorgaans kort en krachtig. De bijnaam van het kwartet is 'quartetto serioso' en is afgeleid van de indicatie bij het derde deel 'allegro assai vivace ma serioso'.
Derde delen in kwartetten zijn doorgaans licht en luchtig en dienen als intermezzo tussen de grotere en zwaardere delen aan het begin en het einde van het kwartet.
Beethoven wou dus aanduiden dat dat bij zijn Op. 95 zeker niet de bedoeling was.
Op. 95 is één van de kwartetten waar de stijl en persoonlijkheid van de componist extreem duidelijk naar buiten komen.
En 1785, Mozart composa six quatuors à cordes dédiés à Joseph Haydn, le créateur du quatuor à cordes.
Le quatuor k421 est le seul en tonalité mineure, ce qui en fait une œuvre particulière.
Cette œuvre pleine d'expression et de contrastes, conserve néanmoins la structure typique, claire et transparente du classicisme et du style des quatuors de Mozart.
Le onzième quatuor op. 95 de Beethoven peut être considéré comme la transition entre sa période médiane et sa période tardive. Cette œuvre est extrêmement compacte et précise. La maturité de Beethoven y est totale, la partition étant rigoureuse et les effets généralement courts et doux. Le surnom du quatuor est "quartetto serioso" et provient sans doute de l'indication du troisième mouvement "allegro assai vivace ma serioso".
Généralement, les troisièmes mouvements des quatuors sont légers et aérés et servent d'intermezzo entre les sections plus importantes du début et de fin de quatuor.
Ici, Beethoven a donc voulu indiquer que ce n'était pas le cas de son opus 95 qui apparaît comme l'un des quatuors où transparaissent le plus clairement le style et la personnalité du compositeur.

In 1785 Mozart composed six string quartets dedicated to Joseph Haydn, the creator of the string quartet.
The quartet k421 is the only one in minor key, which makes it a particular work.
This artwork, full of expression and contrasts, nevertheless retains the typical, clear and transparent structure of classicism and the style of Mozart's quartets.
The Beethoven's eleventh quartet op. 95 can be seen as the transition from his middle period to his late period. This work is extremely compact and precise. Beethoven's maturity is total, the partition being rigorous and the effects generally short and soft. The quartet's nickname is "quartetto serioso" and undoubtedly comes from the indication of the third movement "allegro assai vivace ma serioso".
Usually, the third quartet movements are light and airy and serve as an intermezzo between the more important sections of the beginning and end of the quartet. Therefore, Beethoven wanted to indicate here that this was not the case with his Opus 95, which appears to be one of the quartets in which the composer's style and personality most clearly show through.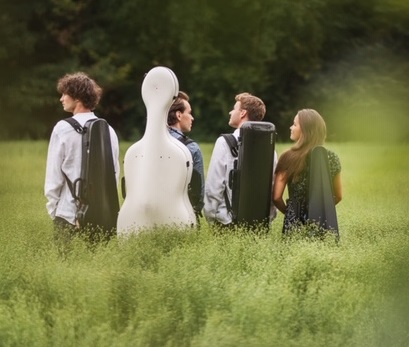 SONORO QUARTET
MONA VERHAS and JEROEN DE BEER, violin | SEAMUS HICKEY, viola | PAUL HEYMAN, cello
Het Sonoro Quartet werd opgericht in 2019 door vier beloftevolle en getalenteerde muzikanten: violisten Mona Verhas en Jeroen De Beer, altvioliste Séamus Hickey en cellist Paul Heyman.
Het Sonoro Quartet studeert momenteel aan de Nederlandse Strijkkwartet Academie in Amsterdam (NSKA) waar ze les volgen bij gerenomeerde leerkrachten zoals leden van het Danel kwartet, Eberhard Feltz, Hagen Quartet etc. Het kwartet neemt ook lessen aan het Orpheusinstituut in Gent en volgt op regelmatige basis masterclasses bij grootmeesters als Heime Müller (Artemis Quartet) en Marc Danel (Danel Kwartet). Het jonge kwartet speelde reeds in tal van mooie zalen zoals de Bijloke, Amuz, Desingel en was te gast op het Beethoven Festival 2020 waar ze de première uitvoerden van het eerste strijkkwartet van Eric Domench, dat werd opgenomen door de SWR televisie. Ook het komend seizoen zullen ze te horen zijn op nationale en internationale podia.
Na een programma volledig gewijd aan Schubert, zetten de vier jonge musici dit seizoen hun tanden in meesterwerken voor kwartet van Haydn, Brahms, Schumann en Shostakovich. Naast deze bekende werken is de missie van het Sonoro Quartet om zowel minder bekende als hedendaagse muziek in concert te brengen. Op die manier profileert het kwartet zich als een uniek ensemble dat steeds zijn grenzen verlegt en hun kleurenpalet blijft uitbreiden. Het steeds blijven vernieuwen en zoeken naar nieuwe klankkleuren heeft deze groep ook geïnspireerd tot het vinden van hun naam.

Wie zijn Mona Verhas, Jeroen De Beer, Seamus Hickey, Paul Heyman?
Le Sonoro Quartet a été fondé en 2019 par quatre musiciens prometteurs et talentueux, les violonistes Mona Verhas et Jeroen De Beer, l'altiste Séamus Hickey et le violoncelliste Paul Heyman.
Le Quatuor Sonoro étudie actuellement à la Netherlands String Quartet Academy à Amsterdam (NSKA) où ils prennent des cours auprès de professeurs renommés tels que notamment des membres du Danel Quartet, Eberhard Feltz, le Hagen Quartet. Le quatuor suit également des cours à l'Institut Orpheus de Gand et suit régulièrement des masterclasses avec des grands maîtres tels que Heime Müller (Artemis Quartet) et Marc Danel (Danel Kwartet). Le jeune quatuor s'est déjà produit dans des salles prestigieuses comme le Bijloke, Amuz, Desingel et a été invité au Festival Beethoven 2020 où ils ont créé le premier quatuor à cordes d'Eric Domench, concert enregistré par la télévision SWR. La prochaine saison les conduira sur des scènes nationales et internationales.
Après un programme entièrement consacré à Schubert, les quatre jeunes musiciens se penchent cette saison sur des chefs-d'œuvre écrits pour quatuor, à savoir le quatuor de Haydn, Brahms, Schumann et Chostakovitch. En plus de ces œuvres bien connues, le Quatuor Sonoro a pour objectif de proposer, lors de ses concerts, de la musique moins connue ainsi que de la musique contemporaine. Le quatuor se profile ainsi comme un ensemble unique qui ne cesse de repousser ses limites et d'élargir sa palette de couleurs. c'est l'innovation constante et la recherche de nouveaux timbres qui ont été à la base du nom du quatuor.
Qui sont Mona Verhas, Jeroen De Beer, Seamus Hickey, Paul Heyman?
Sonoro Quartet was founded in 2019 by four promising and talented musicians: violinists Mona Verhas and Jeroen De Beer, violist Séamus Hickey and cellist Paul Heyman. Despite the fact that they are a relatively young ensemble, they are already known for their virtuosity and energetic playing, balanced by their yet mature musicality.
Sonoro Quartet is currently studying at the Nederlandse Strijkkwartet Academie in Amsterdam (NSKA) where they take lessons with renowned professors such as the members of Danel Quartet, Eberhard Feltz, Hagen Quartet etc. The quartet is also taking lessons at Orpheusinstitute in Ghent and takes lessons on a regular base with renowned professors such as Heime Müller (Artemis Quartet) and Marc Danel (Danel Quartet). This young quartet played already in numerous halls such as De Bijloke, Amuz, Desingel and played on the Beethoven Festival 2020 in Bonn the première of the first string quartet by Eric Domenech which was recorded for the SWR Television. Also, in the next season they will perform on national and international stages.
After playing a program completely dedicated to Schubert, the four musicians will play this season masterpieces from Haydn, Brahms, Schumann and Shostakovich. Besides these famous works, they will also play known and less known modern music on stage. In that way, the quartet presents itself as a unique ensemble that constantly pushes their boundaries and keeps expanding their range of colors. The fact that they keep searching for new sounds inspired the group by finding their quartet name.
Who are Mona Verhas, Jeroen De Beer, Seamus Hickey, Paul Heyman?
Location
Chapel for Europe